#{title}#{text}
#{title}#{text}
#{title}#{text}
#{title}#{text}
#{title}#{text}
About Us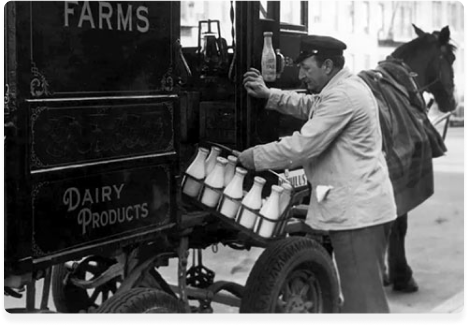 Our Story
The company started over 40 years ago as "Mike the Milkman", one man and a truck.

During Mike's ownership, the company delivered only Lamers Dairy products with a focus on glass bottled milk. Some of us remember when most homes got milk delivered and most people have heard of those days. In the heart of dairy country, Mike was carrying on the tradition as one of the last milkmen in America! When Mike decided to retire 2014, three customers liked the service so much that they bought the company to maintain the service. The partners added a few more local products and changed the name to Farmers Best Home Delivery (FBHD). Unfortunately, they were unable to give the business the attention it needed due to other careers. So, in 2018, they sold it to us, Brian & Teri Gronski.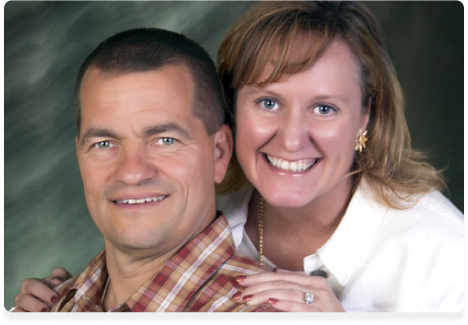 Brian's agricultural roots got started in 1976 when he and his two brothers sold 6 pumpkins from their Red Ryder wagon at the end of their driveway off Hwy41/141 just north of Green Bay in Suamico. This was the start of "The" Pumpkin Place which drew thousands of family's each fall getting their pumpkins and fall decorations, taking pictures and creating lifetime memories until 2018 when fate required us to close the farm. Teri joined in in 1989 and became a permanent part of the family farm when Brian and Teri married in September of 1992 and later getting her Master Gardener certification.

In 2011, Teri & I , along with our boys Christopher & Zach, started Groche Organic Farms dedicated to producing organic produce and grazed animals with the purchase of a 144 acre certified organic farm in Little Suamico. One of the biggest challenges we faced over the years as a small family vegetable farm was getting access to customers through traditional markets which had gone the route of sourcing industrial agriculture. We truly had limited ability to get our great produce and meats to our neighbors' tables. As we networked with other local farmers and value-add producers, we found they too had the same challenge. Lifestyles today were seeming to demand more convenience. When the opportunity was presented to us to purchase Farmers Best Home Delivery, we though it would be a great way to get great tasting, nutritious, local foods to our neighbors in a convenient manor.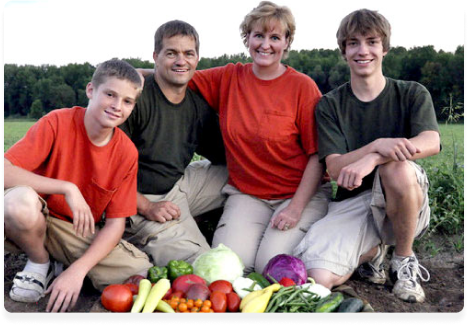 We are a family founded in the beliefs of Faith, Family, Friends, Fellowship, and Fun. We believe in our community and want it to thrive. Our commitment is to be your trusted local food resource and to make access easier than ever before to great local foods.

Zach, Brian, Teri, and Christopher Gronski

Vision, Mission, & Beliefs
Our Vision is for a healthy and vibrant community that thrives.
Our Mission is to be a trusted resource in providing locally produced, safe, healthy, great tasting foods in a convenient, cost effective and sustainable manner to benefit our customers, producer partners, community and the environment.

Great tasting, nutrient dense, clean, safe food is foundational to a healthy life.

Conducting ourselves and business in a friendly, respectful, ethical and grateful manor benefits the human spirit and helps to build strong communities.

Vibrant local economies create resilient communities and are created by community members supporting one another through local commerce.

Supporting great value through fair prices provides financial stability for families and communities.

Protecting our environment is vital to the sustainability to our existence.

The work we do each day is not just what we do for a living, it is a big part of who we are.

Benefits of using
Farmer's Best

Fresh, Tasty & Healthy
Freshness and flavor go hand in hand with healthy. When items arrive within hours or a couple short days of harvest/production, both flavor and nutrients are preserved. Our farmers focus on organic production methods and grass-based meats provide for the best taste and nutrient profiles. Great tasting and super healthy…can't beat that!!

Local & Community
Our foods are all produced in NE Wisconsin. Buying from local small family producers supports local families and keeps our community strong. We're proud to support local! We know you are too!

Convenient, Easy & Friendly
We'll bring local goodness right to your home and place it where you want it. Ordering weekly, creating standing/recurring orders, placing vacation holds, and managing your account are made easy through our friendly online and mobile ordering system. Not only are our systems friendly, so are we!

Product Integrity & The Environment
We carefully select only the best local farms and small batch producers. You can shop confidently knowing that all the products we deliver to you are grown, raised or produced using the highest environmental and humane animal standards. We are committed to protecting the environment by knowing how our food items are being produced. Life can not thrive without healthy clean soils, air, and water!
BROWSE OUR SHOP

"Farmers Best Delivery makes always having milk and eggs so much easier! The products are very fresh and taste so much better!!"
- Diane Giese
"Farmer's Best is great!! Their products are always fresh, delivery is reliable and everyone we have come in contact with is very friendly and helpful. They offer much more than milk delivery. It feels good to buy such quality products locally."
- Paul & Lisa Kardish
"Excellent service & product. A great small company offering an old-time service. Locally sourced offerings are always excellent!"
- James Benton
"Friendly, consistent, high quality products and services or family feels awesome about!"
- Ruth Homrighaus

Refer a Friend
Refer a friend, neighbor, or family member and get a $10 credited applied to your account after their first two orders or one order of $50. Just have them enter your name in the Who Referred You box when they sign up.
REGISTER HERE